Artist
Joseph Farington RA
1747 - 1821
Joseph Farington was born on the 21st November 1747, in Leigh, Lancashire. He was the son of
William Farington and Esther Gilbody, and was the second of 7 sons. He had an early education
in Manchester and then went on to study in London in 1763 alongside Richard Wilson, a welsh
landscape painter and one of the founder members of the Royal Academy. Farington won
"premiums" from the society of Artists for his landscape drawing in 1764, 1765 and 1766 and
became a member in 1765. He joined the Royal Academy when it was founded in 1769 and was
elected an ARA in 1783 and an RA in 1785. He contributed every year until 1801 and on
occasion until 1813. Being an active member of the Academy he sat on several important
committees, including the one that determined where the artworks would be hung during the
exhibitions. In 1793 Joseph became a fellow of the Society of Antiquaries and assisted in the
establishing the British Institution. He died on a visit to his brother Robert in Lancashire on the
30th December 1821, after falling down a flight of stairs in a church.
Lakeland Scenes (c1788)
Handcoloured etchings, Georgian era
21cm x 34cm (8.3" x 13.4")
35.00 GBP
8 Plates Framed each 35 GBP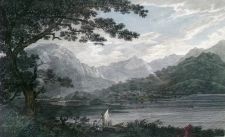 Patterdale from Martindale Fell (1788)
Handcoloured etchings, Georgian era
21cm x 34cm (8.3" x 13.4")
Framed size 151/2 x 20 ins
SOLD
Lowdore Waterfall (1788)
Handcoloured etchings, Georgian era
21cm x 34cm (8.3" x 13.4")
35.00 GBP
Framed size 151/2 x 20 ins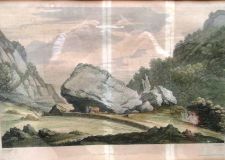 The Bowder Stone and Borrowdale (1815)
Handcoloured etchings, Georgian era
20.2cm x 34.4cm (8.0" x 13.5")
8.00 GBP
Framed size 141/2 x 191/2 in, Creased