Artist
David Cox Jnr
1809 - 1885
David Cox jnr, 1809-1885 was the son of David Cox, an English watercolour painter and was born in Dulwich, London. He
was taught to paint and draw by his father, although he tended to use a brighter colour palette.
His landscapes include scenes of Wales, Scotland, The Lake District and Devon as well as Europe.
He exhibited in the Royal Academy from 1827 and the Society of Painters in Water Colour from 1848.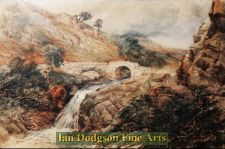 Under Coniston Old Man (c1860)
Watercolour
36.5cm x 54cm (14.4" x 21.3")
580.00 GBP
Copper mines bridge, Coniston, Cumbria.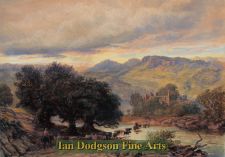 The Ford- Evening (1850)
Watercolour
49cm x 69.5cm (19.3" x 27.4")
Signed & dated
Fully signed and dated, David Cox Junior 1858, Bottom left also inscibed with title verso
SOLD