Artist
Archibald Thorburn R.A.
1860 - 1935
Archibald Thorburn was a Scottish artist, a bird and animal illustrator, painting mostly in watercolour. He painted birds, flowers
and animals but specialised in the study of game birds as he had a vast knowledge of ornithology.
He first exhibited at the Royal Academy when he was just 20 years old and he exhibited there regularly in the 1880's and
1890's. He was highly regarded by his contemporaries and painted Queen Victoria on 3 separate occasions.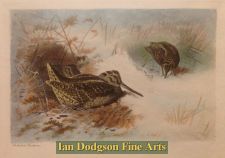 Woodcock in Snow (c1910)
Coloured Aquatint
12cm x 16cm (4.7" x 6.3")
Hand-Coloured Proof on Japanese Vellum
SOLD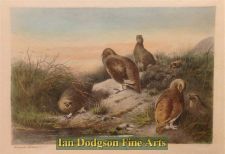 Red Grouse (c1910)
Coloured Aquatint
12cm x 16cm (4.7" x 6.3")
Hand-Coloured Proof on Japanese Vellum
SOLD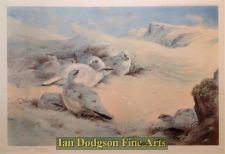 Ptarmigan in winter (1927)
Signed Print
30.5cm x 46cm (12.0" x 18.1")
265.00 GBP
Signed
Signed in pencil, Publisher Embleton 1927
Black Redstart & Coal & Great Tit (c1990)
Limited edition print
27cm x 18.5cm (10.6" x 7.3")
48.00 GBP
£48.00 each, all with certificates to verso Published by William Masters & Thorburn Museum Cornwall