Artist
William Joseph Julius Caesar Bond
1833 - 1926
Born in Liverpool. He was baptised William Joseph.....the Julius Caesar seems to have been self-adopted.
He first trained as a picture restorer and was apprenticed to Thomas Griffiths in Caernarfon. He began to "sketch outdoors"
and after some encouragement, took up a career as a painter.
He exhibited at the Liverpool Academy (1853-1867) and was a member of the Liverpool Society of Watercolour Painters. He
also exhibited at the Royal Academy.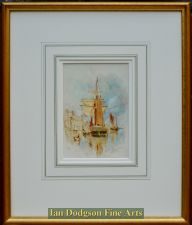 Peel, Isle of Man (c1880)
Watercolour
17cm x 11.5cm (6.7" x 4.5")
275.00 GBP
Signed
Framed size 40 x 34 cm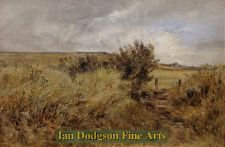 The wind in the grass, Anglesey (c1898)
Oil on canvas laid down on board
17cm x 25cm (6.7" x 9.8")
Signed
Framed Size 32 x 39.5 cm
SOLD